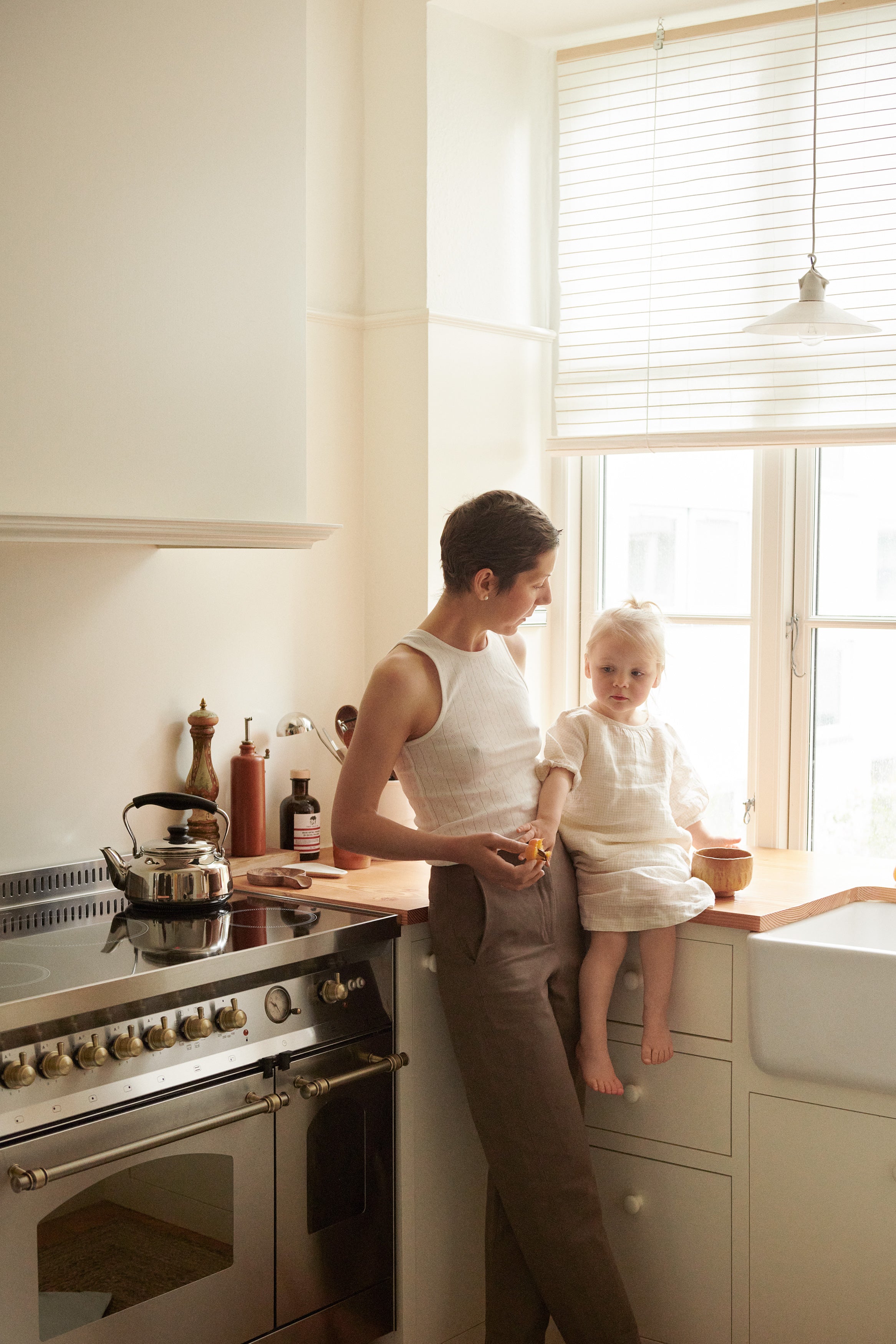 Some stories are so intense and touching that they seem difficult to describe in words. Such a story has Danish Caroline Feiffer and her small family that also counts her husband Steffan and their daughter Clio. When Clio is six months old Caroline discovers a tumour on her neck and is shortly after diagnosed with lymphoma. At that time, they are still happy and overwhelmed by their parenthood and the fact that they have created a little human being. The contrast is so extreme. This is a story about being a mother while having cancer but also a story about how Steffan slowly takes over the mother role.
A story that Caroline feels it is important to share as she was unable to find a similar story when she needed it the most. 
While Caroline is pregnant the Danish couple lives in LA but for practical reasons and because Caroline wishes for maternity leave and at the same time wants to stay close to their family the couple decides to move to Denmark. Caroline enjoys the first part of her maternity leave in Denmark and then things start to change.
"Suddenly I started to get more and more tired, and it didn't make sense as Clio was such an easy baby," says Caroline. She was convinced that she needed rest and to be surrounded by nature and they decided to give up their city life and move on the countryside: "We manage to stay there for one week and then suddenly one day I am unable to get up from the floor after playing with Clio. I feel exhausted and tell Steffan that something is wrong."

Shortly after Caroline discovers a tumour on her neck and after her doctor has neglected it several times the doctor suddenly takes it very seriously.  She gets an ultrasound scan and the same day, on August 26 2019, Caroline is told that she has lymphoma: 
"It was surrealistic to receive all this information. Fuck I have cancer, it said on one of the pamphlets. Was that really me? I felt I was unable to breath and only wanted to get a hold on Clio and get out of there. My mother-in-law took care of her in the waiting room and I immediately got up to get her and hug her," says Caroline who clearly remembers the first evening: 
"We lived straight down to the sea in Rågeleje. I was just sitting there with Clio to watch the sunset while tears were rolling down my cheeks. It could not be right. No one were allowed to take her away from me. I could not bear the thought of that I would not be there to protect her."
Caroline's husband Steffan immediately takes over the practical tasks as well as Clio who still gets her milk from Caroline:

"His primary job was to feed Clio and me and to drive me to my many treatments. Before I went into treatment, I was told to stop breastfeeding and instead give her milk on bottle. As Clio could smell my milk it was natural that Steffan took over. It was heartbreaking to sit upstairs and listen to her crying while Steffan tried to give her a bottle downstairs. Especially because I had plenty of milk. This was hard on me. Not to be able to give my baby the milk that she was longing for along with the comfort and presence that is part of breastfeeding. I was heartbroken and remember that I called my sister and cried, while Clio was crying and Steffan was struggling with the bottle," says Caroline who tried to spare her tears for moments with her husband and other of her dearest ones as she didn´t wanted Clio to see her that sad.
"I really tried to keep calm and stay positive while I tried to stay physical in shape. It took all my energy which was also the reason why Steffan slowly took over the mother role. In fact, he was not only a mother to Clio – at that time he also became a mother to me."
Caroline was grateful that Steffan was able to take over the mother role but at the same time she was afraid that she was unable to maintain their close mother-daughter relationship: 

"We moved to Denmark because I wanted this special time together with Clio and suddenly this dream was torn apart. Would she still seek comfort in my arms when she was hurt or felt unhappy? It was hard to accept that I was not the one to provide comfort and care," says Caroline, who was so exhausted during her treatment that she slept while Clio was sleeping and was unable to take care of Clio on her own as she didn´t have the strength.
But how has Steffan's mother role affected their individual relationships with Clio? 

"Today Clio and Steffan has such a strong relationship, much stronger than other father-daughter relationships that I know of when comparing to her age. Steffan thinks about stuff that most other dads don't think about. How much Clio has been eating and how many hours she has been sleeping in daycare. At the same time, it is very important to Steffan that that she gets home early from daycare. He is responsible for many things and this is not normal at all," she says honestly and tells that their individual roles as parents have been swapped for a long time.
After her first treatment that was completed in February 2020 Caroline has some great months together with Clio and Steffan. While Steffan is renovating their new home, she has plenty of time alone with Clio which once again build up their mother-daughter relationship. But in June 2020 she gets a relapse which is very tough. She needs stem cells and therefore has to go to the hospital for 12 days:

"My relapse was physical and mental tougher than the first time. I was allowed to have the first part of my treatment at home as Steffan was there to help me. He suddenly acted as mother, father and nurse. This was extremely tough. At the same time Clio was older and more aware of what was going on. It was difficult for her to understand why I was lying behind closed doors but for me it was extremely important to hear her voice every day – it reminded me of that I had to keep fighting." 
After three months Caroline had to go to the hospital for 12 days to get her stem cells and this was very difficult for Clio and Caroline:

"I had a stomach tube, lost my voice and was only able to communicate on paper. For 10 days I had no contact to Clio at all as I did not want to get in touch via Facetime as I was unable to speak. Due to the situation, I was not able to talk about Clio for those 10 days. In fact, I asked Steffan not to mention her when he came to visit me as I could not bear it. I had three drawings on the wall that Clio made for me just before I left for the hospital. Each day I looked at them and at the dates that were on them and counted the days and prayed to that I would make it within the doctor's given time frame. When I finally came home, she was mad at me as she was unable to understand where I had been. I am so happy that Steffan was there with all his love and support for both of us."
"My only goal was to recover so I could be together with this little human being. When I got sick, both Steffan and I started fighting. When we received the message, we were still high on energy and love after having Clio. I didn't have time to be tired or weak," says Caroline who has tried to turn her grief into positive energy and has struggled to eat healty and exercise all the way, something that she has always been doing.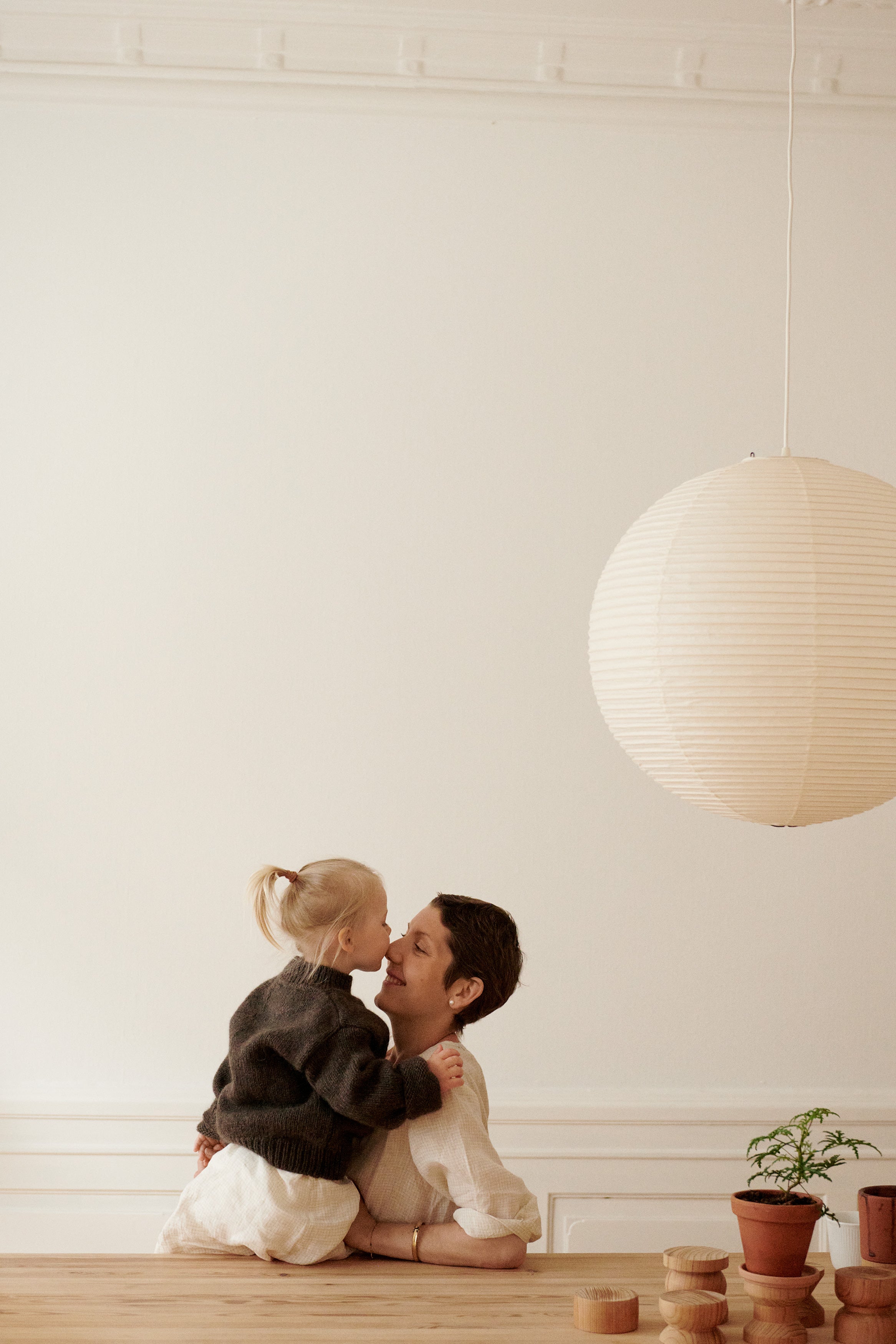 The fact that Caroline went through such a tough time in her life must have affected her way of thinking. Has it taught her something specific that she wishes to pass on to Clio?

"I have always been an over achiever. I am a Capricorn and a perfectionist. At the same time, I have always traveled the world, taken chances and embraced the world. I think this is the reason why we have managed so well. Because I have a positive mindset. But I have also learned to let go of my perfectionism. I think it is very important not always to be in control. I have found an inner peace, and this is something I want to pass on to Clio. Everything will be fine. She just needs to lean back and enjoy the ride."





Please note that the images are subject to copyrights and are solely for internal use. Accordingly, the images may not in any way be distributed.